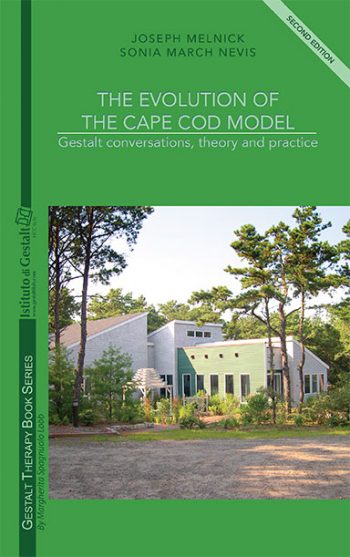 Forfattere:
Joseph Melnick & Sonia March Nevis
Utgitt:
2019
Forlag:
Istituto di Gestalt
Sammendrag:
…opened my eyes to a wider, quite practical and not at all obvious perspective on human relations. Margherita Spagnuolo Lobb, PsyD. Istituto di Gestalt HCC Italy
…combines a rich content based on wisdom of experienced teachers, with an easily accessible and systematic style of writing.
Jan Roubal, MD. Masaryk University in Brne
…represents Gestalt therapy at its very best.
Erving Polster, PhD. Author of Beyond Therapy
…professional collaborations don't get better than this.
Malcom Parlett, PhD. First editor of the British Gestalt Journal
The Authors:
Joseph Melnick, PhD, lives in Portland, Maine, where he works as a clinical and organizational psychologist. He is co-chair of the Cape Cod Training Program and board member of the Gestalt Review, he has authored more than 100 publications. He is especially proud of co-editing, with Edwin Nevis, Mending the World: Social Healing Interventions by Gestalt Practitioners Worldwide. He trains and teaches internationally.
Sonia March Nevis, PhD, was a founding member of the Gestalt Institute of Cleveland, and cofounder of the Gestalt International Study Centre, where she also served on the board. For over fifty years, she practiced and taught Gestalt and family therapy concepts and mentored numerous Gestalt therapists. She was the founder and senior faculty member of The Cape Cod Training Program. She co-wrote many articles and trained and consulted worldwide.