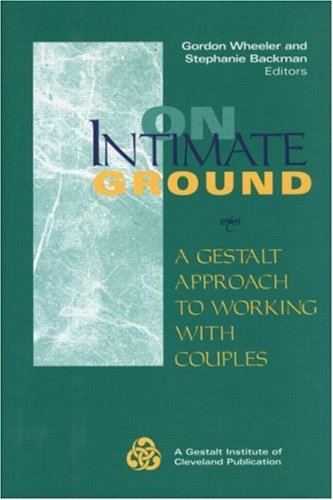 Redaktører:
Gordon Wheeler & Stephanie Backman
Forlag:
Jossey-Bass
Utgitt:
1994
Sammendrag:
Couples therapy has long been regarded as one of the most demanding forms of psychotherapy because of the way it challenges therapists to combine the insights of dynamic psychology with the power and clarity of systems dynamics. 
In this exciting new volume, Gordon Wheeler and Stephanie Backman, couples therapists with broad training and long years of experience, present dramatic new approaches that at last integrate the dynamic/self-organizational and the systemic/behavioral schools of thought.
Building on the insights of Gestalt psychology and psychotherapy, the authors show us how a truly phenomenological approach, based on the clients' own experience and goals, holds the key to a dramatic increase in therapeutic power and flexibility.  The fifteen engaging chapters demonstrate the application of this approach to issues of intimacy, self-construction, power and abuse, «resistance,» growth, and shame – and to such diverse and challenging populations as abuse survivors and their partners, remarried couples, gay and lesbian couples, and couples with «personality» or «character» disorders.
In the process, the authors offer a fresh perspective that will serve to re-energize the couples therapist's work in this challenging area.  On Intimate Ground contributes new insights to many of the most timely and provocative questions in the field today.
Table of Contents
I. Theory
1. The Tasks of Intimacy: Reflections on a Gestalt Approach to Workingwith Couples – Gordon Wheeler
2. Contact and Choice: Gestalt Work with Couples – Judith Hemming
3. Self-Organization and Dialogue – Hunter Beaumont
4. Processes of Experiential Organization in Couple and Family Systems – Netta R. Kaplan and Marvin L. Kaplan
II. Applications
5. Therapy with Remarried Couples – Patricia Papernow
6. Gestalt Couples Therapy with Gay Male Couples: Enlarging the Therapeutic Ground of
Awareness – Allan Singer
7. Gestalt Couples Therapy with Lesbian Couples: Applying Theory and Practiceto the Lesbian
Experience – Fraelean Curtis
8. Working with the Remarried Couple System – Isabel Fredericson and Joseph H. Handlon
9. The Gestalt Couples Group – Mikael Curman and Barbro Curman
10. Trauma Survivors and Their Partners: A Gestalt View – Pamela Geib and Struart Simon
III. Perspectives
11. Couples' Shame: The Unaddressed Issue – Robert Lee
12. Intimacy and Power In Long-Term Relationships: A Gestalt Therapy-Systems Perspective – Joseph Melnick and Sonia March Nevis
13. The Grammar of Relationship: Gestalt Couples Therapy – Cynthia Oudejans Harris
14. Giving and Receiving – Richard Borofsky and Antrea Kalnins Borofsky
15. The Aesthetics of Gestalt Couples Therapy – Joseph Zinker and Sonia March Nevis
Epilogue: The Aesthetic Lens – Stephanie Backman
Editors
Gordon Wheeler, Ph.D., is a clinical psychologist in private practice in Cambridge, Massachusetts.
Stephanie Backman, LCSW, is a licensed social worker in private practice in the Boston area and Maine.