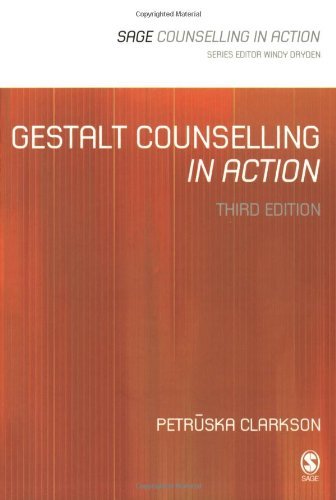 Forfatter:
Petruska Clarkson
Utgitt:
2004
Forlag:
SAGE Publications
Sammendrag:
«The reader looking for a clear and comprehensive introduction to Gestalt counselling need look no further. This work can be recommended wholeheartedly."» (British Gestalt Journal)
«A handy update to Gestalt that shows it to be a mature and sophisticated approach to personality that has lost little of its inventiveness, iconoclasm and authenticity…a very useful source book» (Self and Society)
Gestalt Counselling in Action is a bestselling text , which has sold over 30,000 copies. Now in it's Third Edition, the book continues to be a popular text for training in counselling and psychotherapy and with practitioners who are new to the gestalt approach.
Drawing on over 30 years experience as a gestalt practitioner, trainer and supervisor, Petruska Clarkson has written a lively and authoritative introduction to the approach, beginning with the theoretical and philosophical basis of gestalt.
She clearly sets out the six main phases of the therapeutic process, introducing us to a client, 'Gary', whose case is used throughout the book to illustrate the process of therapy and the techniques used in each of the phases.
Fully revised and updated, Gestalt Counselling in Action, Third Edition includes a new chapter which explores recent developments in the field and looks to the future for the gestalt approach.
(Tekst fra bokas bakside)